Following 1908, the Workshop's fortunes took several different turns and it was through the young silversmith George Hart's persistence and endeavours that it survived.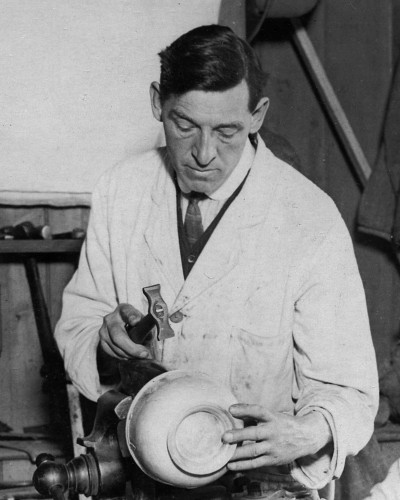 Shortly after 1908, George had the opportunity to diversify into farming; he was originally from Hitchin, Hertfordshire, and had a deep-seated love of the countryside. He ran both a farm and the Workshop until the mid-1920s.
Throughout a lifetime of silversmithing, George not only made numerous pieces of gold and silver but also spent many hours producing drawings and designs, which are works of art in their own right. It is his drawings and design work that are the driver for the archive project
In 1912 George began training his half-brother Reynell Huyshe and local boy Harry Warmington in the art of silversmithing; Harry was also to become a very talented engraver. With the outbreak of the First World War, both Reynell and Harry joined up and were 'lost' to the Workshop until 1919. On Reynell's return from the War, George formed a partnership with his half-brother, which lasted until the latter part of the 1920s when Reynell went back to the Southeast to teach at the Art School in Gravesend. Harry remained at the Workshop until his retirement in 1966.
During the years 1924-26, the Workshop made two important pieces, the first being a Processional Cross for Gloucester Cathedral which was later used in H.M. Queen Elizabeth's coronation in 1952 and at the time thought to be the largest processional cross in the country and the second was a design for the Royal Ascot Hunt Cup. This was a competition run by the Worshipful Company of Goldsmiths to design a cup for the Royal Ascot Hunt Cup and George won First prize for his design which the Company commissioned to be made for their collection. The finished cup has since been regarded to be one of Georges finest pieces and was the beginning of a long relationship with the Worshipful Company of which he later became a Liveryman of.
These two pieces were fundamental in raising the Workshop's profile and gave George an international reputation. It was from this point that Workshop began to flourish.